Description
Avery 900 Supercast Colors
Avery 900 Supercast Colors
(Formerly A9)
• 2 mil high gloss cast vinyl.
• Up to 10 year outdoor durability for colors, and up to 12 years for white and black.
• Extreme conformability over deep channels, rivets, and compound curves, without the need for primer.
• High surface smoothness, which brings out a higher gloss.
• New 83lb kraft liner that assists in more efficient cutting and weeding, while maintaining film gloss.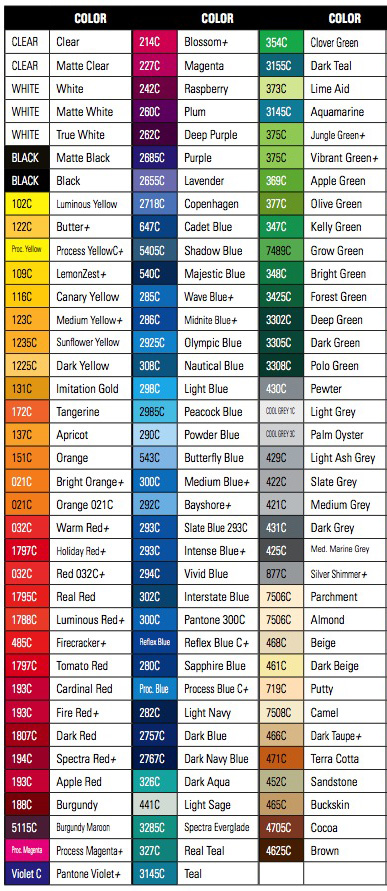 http://graphics.averydennison.com/content/dam/averydennison/graphics/ap/en/Product-Data-Sheets/Sign/Avery-900-Ultimate-Cast-Ultra-Metallic-Films-PDS-Rev-1.pdf
http://graphics.averydennison.com/content/dam/averydennison/graphics/na/en/documents/ColorSelector_Jan2013_digital.pdf
Introduction
Avery
900 Super Cast has a proven superb conformability, which makes the product especially suitable for
applications on heavy corrugated surfaces, both convex and concave. Avery
900 Super Cast films offer
excellent conversion on a wide range of computer signmaking equipment, both drum and flatbed processing
systems.
Description
Facefilm: 50 micron superior-quality cast vinyl
Adhesive: permanent, transparent acrylic-based
Backing paper: one-side coated white kraft paper, 135 g/m²
Features
– Superb conformability to irregular surfaces:
– Deep channels and concave shaped
– Extremely convex shaped
– Compound (concave and convex) shaped
– Excellent performance in corrugations
– Excellent performance on rivets
– Exceptional dimensional stability
– High gloss surface for superior appearance
– Outstanding durability and outdoor performance
– Excellent UV-light, humidity and chemical resistance
– Dimensionally stable backing for fast and easy conversion.
– Full product traceability. Batch reference and product description are printed on the backing paper
– Avery 900 Super Cast Gloss White and 920 Super Cast Matt White are manufactured on a blue contrast
backing paper for ease of conversion
– Removal of film after use, see TB:1.2, Removal of self-adhesive films
Recommendations for use
– Vehicle graphics
– Application on corrugated, concave, convex and compound curved surfaces and rivets without the need
to make incisions
– Architectural signage and Corporate identity
– Police and emergency vehicle graphics
– Marine crafts and recreational vehicle graphics
– Wayfinding
– Retail signage and window graphics
Avery®
Colour Matching:
A fast colour matching service is offered for projects where specific colour needs cannot be matched from the standard
colour range. For supply conditions please consult your Avery Dennison representative.
PANTONE®
Cross-references:
A range of Pantone-approved colours is offered for faster colour choices and for ease of use for designers and
signmakers. A separate list with Pantone-approved cross-references shows the approved colours and the link to the
standard Avery name and code.
PANTONE® is the property of Pantone, Inc.